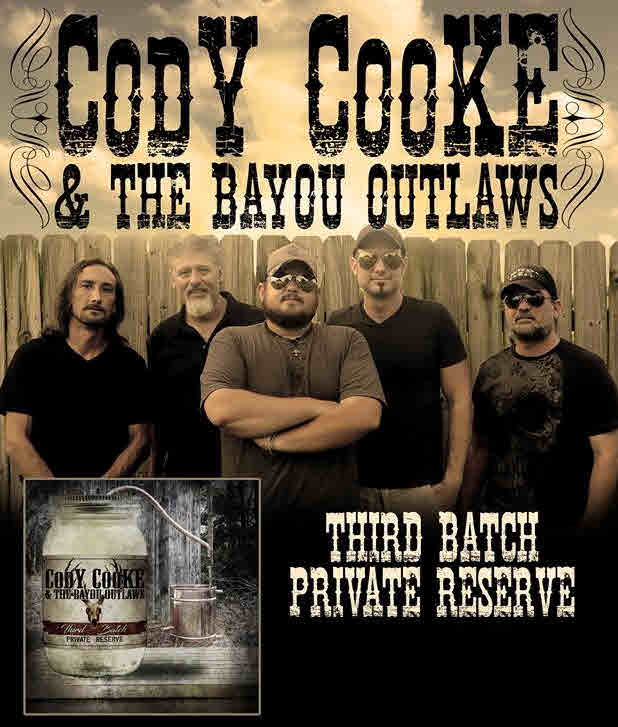 Cody Cooke & the Bayou Outlaws
Cody Cooke and the Bayou Outlaws are one of the few, authentic, electrifying home-grown Louisiana flavored country bands who put the "good time" back into live country music. Critics and fans alike are taking notice and welcoming the good ole' sounds of songs reminiscent of Hank Williams (1, 2, and 3), Waylon Jennings, Jamey Johnson, Randy Travis and Merle Haggard. And, DJs and radio have embraced their sound and dubbed Cody and the Bayou Outlaws' music as "much needed rough and rowdy country for the 21st century".
Raised on the Louisiana-Texas state line, Cody Cooke lives and breathes country music and every song that he sings is based on his own life – full of fishing, mudding, partying and entertaining audiences everywhere he steps on stage. "My music is classic, outlaw country with a kick and I'm not making any apologies because for me and my fans, it's all about having a good time," says Cody.
Cody's debut release, Gitcha' Country On shot up the Billboard charts to # 7 on the Billboard Country Music Heat Seeker chart and was nominated for two Grammy awards. Their first single, "Buck Wild" climbed Nashville's Music Row charts and is still played regularly on country music radio – it's been added to 32 stations recently and is still continuing to gain momentum. "There's no better feeling than knowing that folks all around are the country are requesting one of my songs," Cody comments on his radio adds.
His sophomore release, Sons of the South climbed to #1 on the Billboard's Heat Seeker chart for the Southeast, averages 40,000+ streams a month and has gained the band opening slots, allowing him to share the stage with some of country music's best: David Allan Coe, Blackberry Smoke, Brantley Gilbert,  Neal McCoy,  Randy Rogers, Colt Ford, Travis Tritt, Kevin Fowler, Pat Green, Shooter Jennings, Randy Houser, Justin Moore, Whiskey Myers, Jason Boland, Tracy Byrd, Chris Cagle and others.